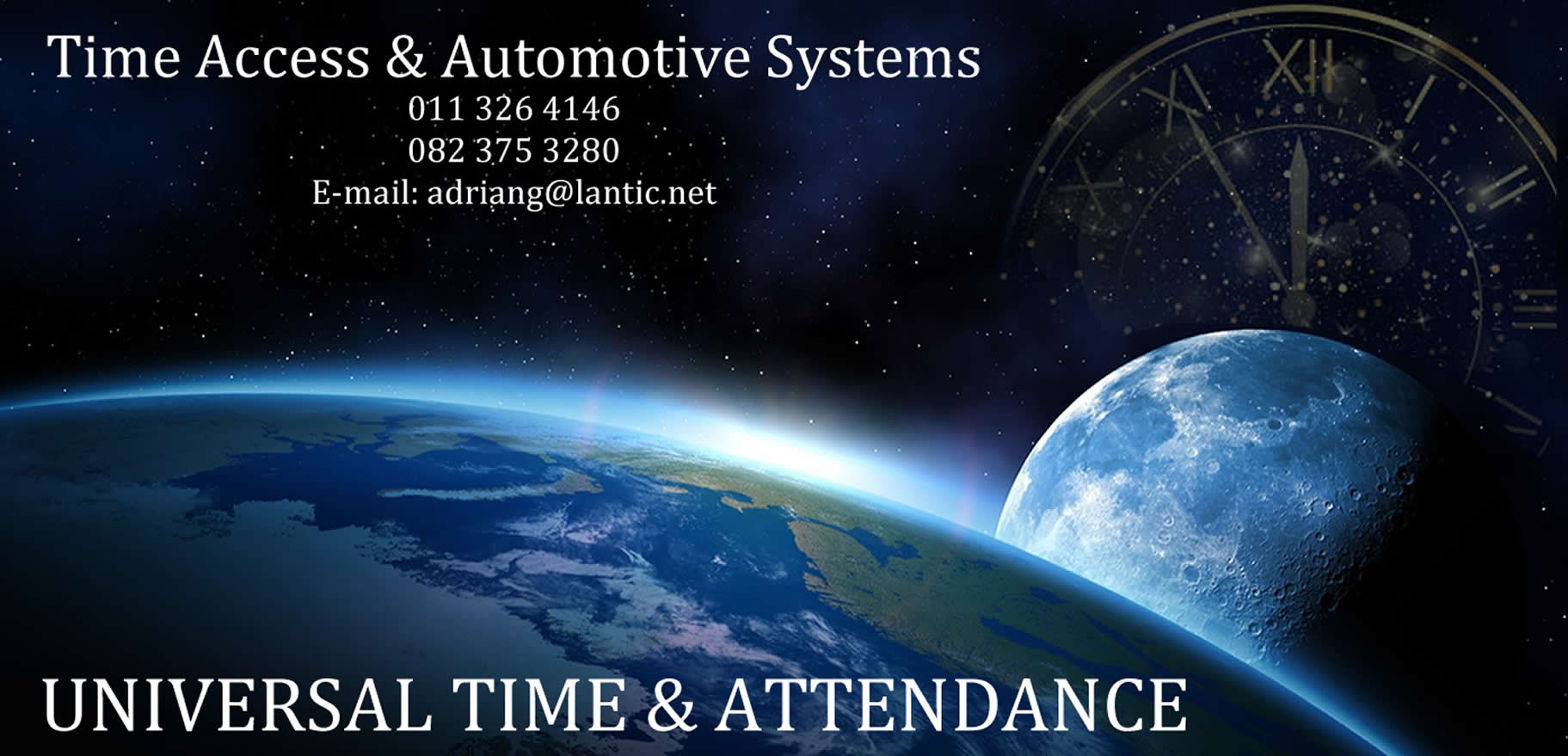 About Our Universal Time & Attendance Software
Its finally here. Our new Time and attendance Software called Universal Time & Attendance. The Time & Attendance that will cater for your needs. Universal Time & Attendance has a multi-user platform that allows users to manage information and reports simultaneously (stand-alone, Lan or Wan).

Normal time, Overtime, Saturday overtime, Sunday overtime, Late arrivals, Early departures, Long lunch or Smoke breaks are all standard features and all are available on reports. Fixed shifts, Rotating shifts and Auto shift detection ensure precise time calculations to provide flawless timesheets and reports.
Time and attendance Reports can be exported into any electronic format and can be automatically emailed to supervisors or managers providing seamless efficiency.


True Windows 32/64Bit (SQL Database)
Multi-User (Access software across network via multiple users)
Multi-User View Option (Department, Cost Centre or Company)
System Security "Multiple User" Log in and Password protection
Employee Master File has personnel notes with photo linking option
Employee Disciplinary and Warnings records - with full reporting
Employee Training Module
Leave Module "Book your user definable leave in advance "Paid or Un-Paid"
Employee and Machine costing reports are available
Employee Rostering with Schedules and hour targets
Employee's Clocking can be corrected
Employee's Hours can be adjusted with a "reason code"
Detailed "Ms-Excel" look alite clocking and hours editing screen
Multiple Public Holiday Calendar
User definable absenteeism codes
Standard A.W.O.L code for employees with "no clocking's" on a "Compulsory Work Day"
Each Manager can run or print their own reports "View to Screen or Print option"
User definable system codes (Company, Grades, Occupation, Department)
Fixed Shifts, Rotating Shifts, Employee Rosters or Auto Shift Detection rules
Fixed or Flexible lunch, tea or toilet/smoke breaks
First & Last clocking's option for managers and supervisors
Comprehensive reporting: All reports can be printed as Hours, Minutes OR Decimals
Detailed clocking's and hours summary reports
Absenteeism/Late Arrival and Early Departure (Exception reports)
Employee, Department and Cost Centre Analysis Reports
Balancing Reports option
Reports can be exported to Excel, CSV, HTML and PDF formats for "Email"
Bulk Clocking's and Hours allocation
Secure Backup and Restore feature (Local or Network drivers)
Universal Time and Attendance has a standard payroll package exports
VIP Payroll Business Partner
User definable payroll periods
Customised Reports
Customised payroll exporting
Automatic Reports engine, emails reports to Managers & Supervisors daily